Monitoring System Behaviour
Dynamic Disturbance Recording (DDR) involves capturing incidents that represent behaviour of the power system during dynamic events, such as low frequency oscillations, abnormal under/over frequency, voltage excursions and system's wide transients.
DDR can be used for wide-area disturbance monitoring to analyse the system's transient and post-transient response and predict system model performance.
Continuous Dynamic Disturbance Recording (DDR-C)
A slow scan function providing recorded calculated quantities at scan rates up to two per cycle, for up to 30 days for long term power stability monitoring.
Calculated quantities available include rms voltage and current, real and reactive power, sequence components and frequency.
Triggered Dynamic Disturbance Recording (DDR-T)
Slow speed recording monitoring specified calculated power quantities for up to 30 minutes before, during and after a transient fault or disturbance at scan rates up to two per cycle.
Calculated quantities available include rms voltage and current, real and reactive power, sequence components and frequency.
"The DDR function in Fault Recorders provides information when step changes in generation or load due to unexpected system events cause frequency, power and voltage fluctuations. "
Dynamic Disturbance Recording
by Qualitrol
A MODULAR DDR PLATFORM
The Qualitrol IDM+ fault and disturbance recorder provides comprehensive slow scan functionality, enabling continuous recording over long periods - before, during and after a transient fault or disturbance.
MONITOR MULTIPLE FUNCTIONS
Qualitrol IDM+ for dynamic disturbance recording capability in a multifunction power system monitoring device.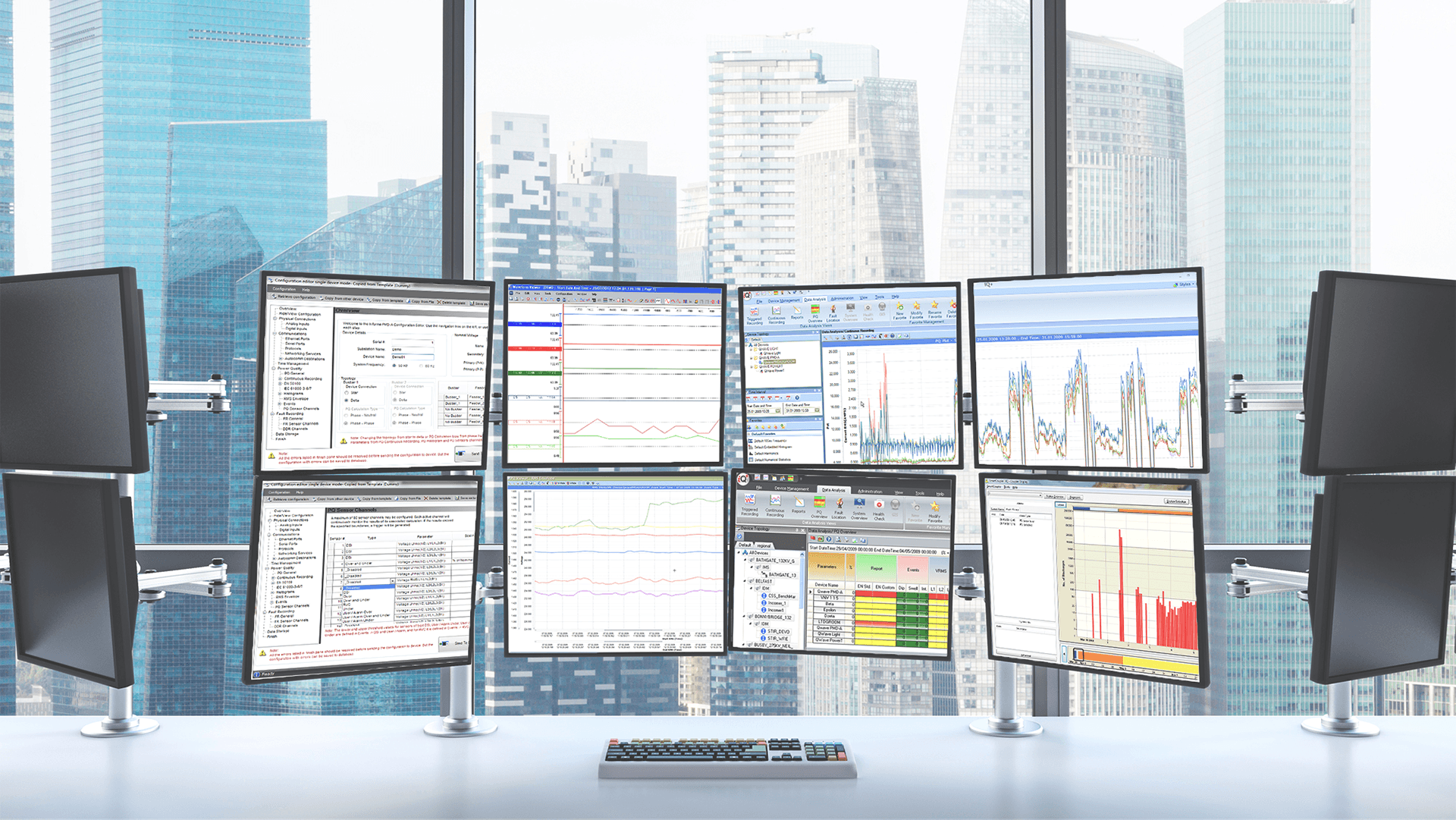 iQ+ Master Station Software
iQ+ provides flexible data management and fully customisable viewer display for DDR-C and DDR-T records.
Flexible sampling rates for disturbance monitoring
Ability to set DDR sample rates from 100 Hz to 6.25 Hz on 50 Hz systems.

Select up to 32 calculated analog parameters, 64 digital inputs and 128 Goose statuses for inclusion in a DDR record.

up to 30 days rolling buffer dependent on Compact Flash size and other configured settings.
Multi-function Capability
Qualitrol iQ+ is not just for Dynamic Disturbance Recording. It is a complete network monitoring software package for the configuration, collection and analysis of data from the Qualitrol range. This includes Digital Fault Recording, Dynamic Disturbance Recording, Travelling Wave Fault Location, Power Quality Monitoring and Phasor Measurement.
IEC 61850 Ready
With IEC 61850 Ed.2 fully utilised within the IDM+, the Qualitrol PSM platform is designed to meet both current and future state substation automation architectures.
Talk to our Expert PSPM Team about your power
system monitoring challenges.
DDR in Australia: HSM and FCAS
In Australia, the Qualitrol IDM+ has been used for over a decade to deliver custom monitoring and reporting to the energy market operator AEMO.
Pre-calculated quantities in IDM+ enable the device to be used in conjunction with FCAS and HSM RP software. These systems collect the calculated quantities directly from the IDM+ units and prepare them to be sent to AEMO.

Power Plant Dynamic Disturbance Monitoring
Reviewing Generation DDR monitoring needs, difficulties and possibilities
Nearly all power plants today are supervised by Digital Control Systems (DCS) and most, though not all, of these DCS provide some form of trend recording. Nearly all plants now have a Plant Information (PI) system, either as an integrated part of their DCS or as a free standing unit. This paper presents considerations relating to the monitoring of power plants to meet the requirements of transmission grids for information on their dynamic behaviour.
Learn more about Fault & Disturbance Recording
Browse our technical papers on the fault and disturbance recording application to find out more about this valuable application, including how DFR and DDR are used in conjunction with other power system monitoring applications to provide advanced monitoring capability and better outcomes for utilities.
Power System Monitoring Services
System Design & Development
Insulect provide complete monitoring system development, working in collaboration with customer teams to provide engineering design, panel build and integration, system commissioning and software configuration. We design systems to best meet customer challenges, information needs and existing network architecture.
System Support Plans
The real network monitoring task only begins once a system is commissioned. Which is why we support our customers' systems through our Support Plans. The plans cover health check reporting, fault ID and remote diagnosis, maintenance and repair, firmware and software upgrades, helpdesk and more.
Training Programs
Our expert engineering team provide application-based training programs covering all Qualitrol products and network monitoring applications. All training is delivered by our Qualitrol Certified trainers. Customisable to meet enterprise-level training needs.
Expert Analysis
Our Expert Engineers collaborate with customer teams to evaluate system design, investigate incidents and identify improvements to increase uptime. With hundreds of installations across Australia, our Qualitrol-certified team has extensive experience with real-world fault and disturbance data.
Hardware Repairs & Upgrades
Insulect have a Qualitrol certified service centre in Brisbane for fast response with minimum downtime. Full technical service, repairs and testing with locally stocked spare parts. Hardware upgrades of older generation IDM T3/T5 to the new IDM-E / IDM+ architecture utilising existing wiring.
Other Network Monitoring Applications
TRAVELLING WAVE FAULT LOCATION
FREQUENCY CONTROL ANCILLARY SERVICES
Talk to Digital Fault Recording Expert
Whether you're operating a Transmission or Distribution network, a Generation plant or are a large energy user, our team can help you understand how DFR can help your organisation.